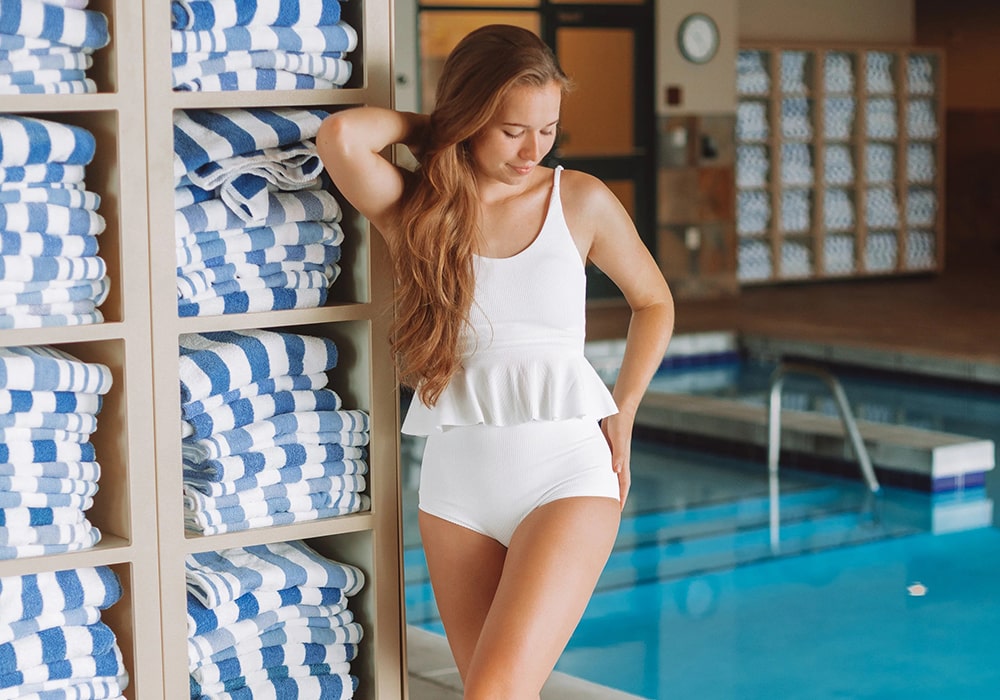 Have you been looking for the perfect white tankini for your upcoming vacation, or just to have on hand for the next time you're hanging out by the pool, on the lake, or at the beach? Well, we think we found it!
This white tankini, sold in the By Alanna online store, might just be the best one on the market!
So many white tankinis out there tend to be cheaply made, have unflattering designs, and are impractical for anything other than just lying around—but not this one. The By Alanna tankini is made from high-quality fabric that helps hold you in in all the right places and will still look great, even after multiple washes. The top has a flattering neckline and a cute peplum detail to give it some added style. You'll look great in your Instagram photos and in real life in this stylish tankini.
Best of all—this tankini is comfortable! Go for a swim, do some stand-up paddleboarding, or any other type of activity that you love. You'll be able to relax, knowing that your swimsuit will stay in place and keep you covered.
One of the other great things about this white tankini is that the two pieces can be used separately to create cute summer or vacation outfits. Pair the white tankini top with your favorite pair of shorts and you'll look effortlessly put together for a casual lunch, while running errands around town, or when you go on just about any type of excursion. Because the top is solid white, it will look great with almost any pair of shorts or pants, whether they're patterned, floral, a solid color, or denim. The ribbed texture makes it look more like a cute tank top than your average swimsuit top, with the peplum adding visual interest.
The high-waisted white swimsuit bottoms are also great paired with tops other than the matching tankini top. Wear the bottoms with a cropped t-shirt for a pick-up volleyball game on the beach, or just throw on a hoodie with them in the evening as you sit around the firepit. Their full-coverage design makes it feel like you're wearing a comfortable pair of shorts, rather than a bikini bottom—and they stay in place no matter what type of activity you're doing.
The top and the bottom of this white tankini are sold separately, allowing you to get the perfect fit for your body. That makes this tankini a great option for someone who has a large chest, but a smaller bottom and stomach, or vice versa. A handy measurement chart is included on the By Alanna website to help you find the right size for your specific body type.
Visit the By Alanna website for more great swimsuit options or to purchase your white tankini.